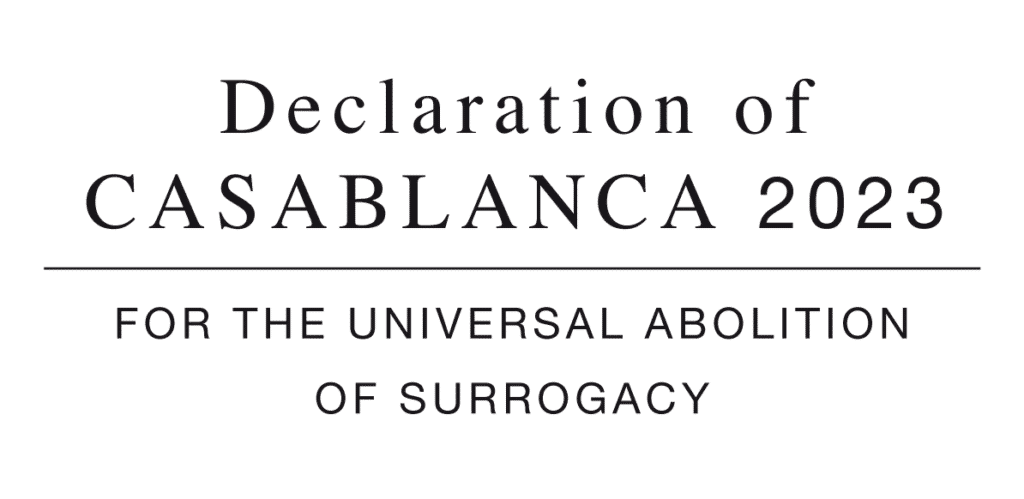 PRESS KIT HERE / DOSSIER DE PRESSE ICI
Texte de la Déclaration (fr) / Text of the Declaration (en)
________________
The Casablanca Declaration for the universal abolition of surrogacy, signed by 100 experts of 75 nationalities, was made public in Casablanca (Morocco) on 3 March 2023.
The aim of this text is to commit States to adopt measures against surrogacy in all its forms and modalities, whether paid or unpaid. It includes in its annex a proposal for an International Convention for the Universal Abolition of Surrogacy.
This text is not the property of any structure. It is available to any State, organization or person who wishes to save humanity from the scourge of surrogacy.
No authorization is required from anyone to use the content of the Declaration or the proposal for an international Convention appended thereto.
The Casablanca Declaration is the contribution that the signatories experts are happy to offer to humanity, to each and everyone need it.
________________
La Déclaration de Casablanca pour l'abolition universelle de la gestation pour autrui, signée par 100 experts de 75 nationalités, a été rendue publique à Casablanca (Maroc) le 3 mars 2023.
Ce texte a pour objectif d'engager les États à adopter des mesures contre la gestation pour autrui dans toutes ses modalités et sous toutes ses formes, qu'elle soit rémunérée ou non. Il comporte en annexe une proposition de Convention internationale pour l'abolition universelle de la gestation pour autrui.
Ce texte n'est la propriété d'aucune structure. Il est à la disposition de tout État, organisation ou personne qui souhaite préserver l'humanité du fléau de la gestation pour autrui.
Aucune autorisation n'est à demander à quiconque pour utiliser le contenu de la Déclaration ou la proposition de Convention internationale qu'elle comporte en annexe. La Déclaration de Casablanca est la contribution que les experts signataires sont heureux d'offrir à l'humanité, à tous et à chacun.
.________________